Edward Meyen
---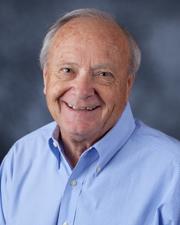 School of Education and Human Sciences - Special Education
Professor Emeritus
Contact Info
Dole Human Development Center, 3078
1000 Sunnyside Avenue
Lawrence, KS 66045-3101
---
Biography
—
Edward Meyen is Professor Emeritus in the Department of Special Education and an affiliated researcher with the Center for Research on Learning (CRL) in the Life Span Institute at the University of Kansas. He joined the faculty in 1973 as chair of special education and retired in 2015. Beginning in 1978 he served in several central university administrative roles, including Dean of the School of Education. He returned to the faculty in 1996 after serving as the Executive Vice Chancellor for the Lawrence Campus. Upon returning to the faculty he became engaged in interdisciplinary research in the emerging field of eLearning. The initial group included researchers from Engineering, Education, and Computer Science. The group later expanded to include researchers from Design, the School of Business and the School of Pharmacy. The collaborative work of this group led to the establishment of the eLearning Design Lab (eDL) in 2000.The eDL was sponsored it the Information Technology and Telecommunications Center (ITTC) and the CRL. He served as CO-Director of the eDL throughout its history. The eDL was self-supporting and generated over 30 grants and contracts to support it research and development mission. He continues to pursue collaborative research.
Education
—
Ph.D. in Education, The University of Iowa, 1968
M.A. in Special Education, University of Northern Colorado, 1959
B.A. in Elementary and Special Education, University of Northern Colorado, 1958
Research
—
His current research interests are in three areas. They include (1) The influence of cultural differences on the performance of post-secondary online learners in asynchronous online instruction. 2) The role of faculty as change agents in the evolution of online instruction in higher education. 3) The challenges experienced by researchers in the eDL during the era before the establishment of academic policies and administrative support for accommodating online instruction.