Nhan Nguyen, M.S.
---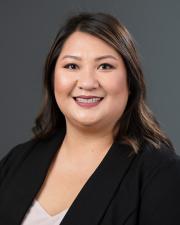 Associate Researcher
Assistant Director of Proposal Development
Contact Info
Joseph R. Pearson Hall; Rm 745
Lawrence
1122 West Campus Rd.
Lawrence, KS 66045
---
Biography
—
Nhan Nguyen is an Assistant Director of Proposal Development for the University of Kansas Center for Research on Learning (KUCRL). Nhan manages the proposal development activities and submission of proposals to various funding agencies targeted by KUCRL researchers. She also leads the KUCRL marketing team in analyzing data from website and social media platforms, establishing social media content, identifying and engaging key audience, and refining and implementing best practices. Nhan has been focusing on digitizing KUCRL manuals and programs and producing videos and other marketing materials to bring awareness to the products and services at KUCRL. She is also passionate about leveraging her technology skills and knowledge to solve problems in business and in education, especially for students with disabilities. Nhan holds a B.S. in Information Systems and a Master of Science in Business Analytics at the University of Kansas.
Education
—
B.S. in Information Systems Technology, University of Kansas School of Business, 2020, Lawrence, KS
M.S. in Business Analytics, University of Kansas School of Business, 2021, Lawrence, KS