Suzanne Marie Robinson, PhD
---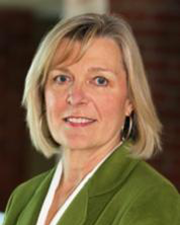 School of Education and Human Sciences - Special Education Associate Professor
Contact Info
Joseph R. Pearson Hall, Room 544
1122 West Campus Rd
Lawrence, KS 66045-3101
---
Biography
—
Suzanne Robinson is an Associate Professor in the Department of Special Education at the University of Kansas and the Area Coordinator for High Incidence Special Education teacher education. She has directed 22 funded research and training projects and held eight different editorship positions.Dr. Robinson specializes in consultation and collaboration, high-incidence disabilities, and school reform. She is a consultant for the national CEEDAR Center, a technical assistance center funded by the US Office of Special Education Programs that supports states in aligning and reforming their educator preparation systems at the state, educator preparation program, and local education agency levels.
Education
—
Ph.D. in Special Education; Minor-Cognitive Psychology, University of New Mexico, 1983
M.S. in Special Education, George Peabody College, 1976
B.S. in Elementary Education, University of Colorado, 1973
Teaching
—
Teaching Interests
Practice-based preparation, evidence-based practices, highly effective educators
Research Interests
Teacher education
Collaboration
Multi-tiered systems of support
Literacy
Technical assistance
Her scholarly work is currently focused on systems change. One strand of that work is at the LEA level; specifically exploring how high schools might provide academic supports to struggling students within a multi-tiered system. The other strand of reform work is within the CEEDAR Center, which is a national technical assistance center with a mission to support states in developing aligned educator preparation systems that insure that all teachers are prepared to address the needs of students with disabilities they will have in their classes, regardless of their setting.
Service
—
Dr. Robinson's service work in the Special Education Department is as Chair of the SOE Grievance Committee (Sept 2017-ongoing), Chair of Knowledge Mobilization (Sept 2017-Sept 2018), member of Preparation of Education Personnel Committee (PPPC Sept 2018-ongoing) and Coordinator of HI Disabilities Program (Aug 2018-present). Her service to the field has been as leadership within the CEC Division of Teacher Education (Presidential line 2010-2013, and Past President, ongoing), KU's HECSE representative (2018-ongoing), and within the CEEDAR Technical Assistance Center as a member of the leadership team (2013- ongoing), and CEEDAR State Facilitator for CT and UT.