Congratulations to our Researchers!
KUCRL is Awarded a 2021 OSEP Educational Technology, Media, and Materials for Individuals with Disabilities, Stepping-up Technology Implementation Grant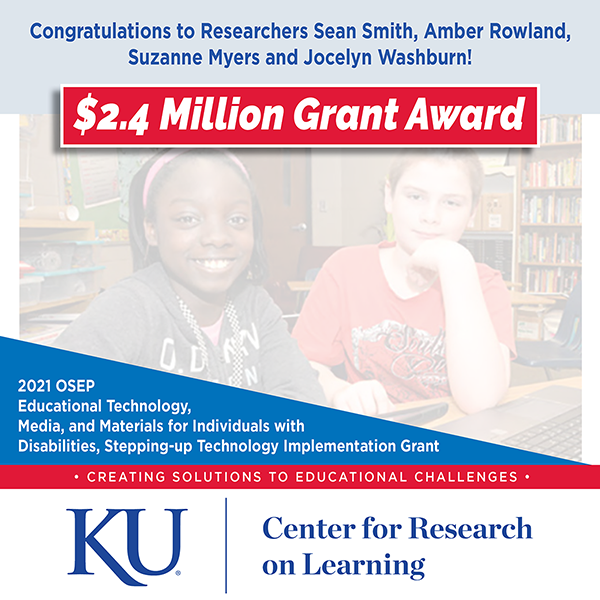 Researchers Smith, Rowland, Myers, and Washburn at the University of Kansas Center for Research on Learning were recently awarded $2.4 million for up to five years to develop and test an online professional development system called APLM Online for WRITE. Researchers will iteratively design and refine an online dashboard based on KUCRL's Adaptive Professional Learning Model (APLM). WRITE is a technology-enhanced writing tool developed for educators to better understand and then apply effective technology-based solutions aligned within evidence-based writing interventions. Initially funded by the Office of Special Education Program's (OSEP) Stepping-Up competition, WRITE provides teachers an interactive Progress Monitoring (PM) Tool to continuously assess student writing. Through the PM Tool, teachers and their students are able to make data-based decisions on which evidence-based writing interventions are appropriate for the specific needs of the struggling writer. Likewise, in this age of digital writing, WRITE connects proven writing strategies with effective technology tools to further foster the student's writing experience.
Project WRITE-APLM: Writing Strategies for Integrating Technology in Education with the Adaptive Professional Learning Model is designed to support in-service professional developers as they virtually coach teachers on the implementation of WRITE with students with learning disabilities. This project will develop, investigate, and revise: (a) an online professional developer dashboard system meant to facilitate effective virtual in-service teacher development using the Adaptive Professional Learning Model (APLM), (b) the use of data to further direct professional development efforts, and (c) the development of a process to sustain APLM and WRITE usage. The project will use timely implementation and iterative development cycles to support Development, Pilot, and Dissemination schools in using data-based decision-making processes to support professional developer (coach), teacher and student outcomes.
Contact simpd@ku.edu for more information.