Jayne James, EdD
---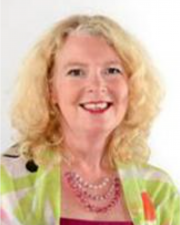 Biography
—
Jayne enjoys teaming with others to innovate and improve learning and teaching. She has led a number of federal grants and contracts, and has experience serving local, state, regional, national and international initiatives. As Senior Director of Education Leadership for ISTE, Jayne and her teams developed technology-enhanced coaching standards and delivered professional development services to teachers across the globe. She is a firm believer in the power of partnerships to leverage results, which can only be achieved by working collaboratively; a belief reinforced by leading high performing teams as the Executive Director of the Ready to Learn Initiative at the Corporation of Public Broadcasting, with state technology directors in her role as Team Lead for the EETT program at the U.S. Department of Education, and as a technical assistant consultant for personalized learning and digital equity initiatives.
Previously, Jayne served as State Education Technology Director in Kansas, and has taught at all levels of education; pre-school through graduate studies. She holds a doctorate in Technology Leadership from Kansas State University with an emphasis in online professional development. 
Education
—
Ed.D. in Education Administration and Leadership, Kansas State University, 2000
M.Ed. in Marketing Education, University of Central Oklahoma, 1985
B.A. in Political Science and Communications, Stephens College, 1981
Selected Publications
—
James, J. & Whitaker, H., (2018). Expanding the palette: Ubiquitous use of technology in arts in education. (pp. 2-7). Featured Article, U.S. Department of Education Arts in Education Quarterly Newsletter. Issue 3, Volume 1, March 2018. https://arts.ed.gov/services/PDCService.svc/GetPDCDocumentFile?fileId=2…
Beglau, M., Craig-Hare, J., Foltos, J., Gann, K., James, J., Jobe, H., Knight, J., & Smith, B. (2011). Technology, coaching and community: Power partners for improved professional development in primary and secondary education. ISTE White Paper, Special Conference Release.
Selected Presentations
—
SkillPath Presentation Leader 2019 – To date, over 75 experiential workshops delivered in 28 states to corporate customers in the areas of Social Marketing, Digital Marketing and Advanced Microsoft Excel Techniques
ESSA Briefings to PITSCO – December 2017 and January 2018, Pittsburg, KS