Suzanne Elizabeth Myers, EdD
---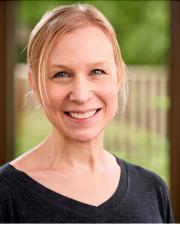 Assistant Research Professor
Contact Info
Joseph R. Pearson Hall
1122 West Campus Road
Lawrence, KS 66045-3101
---
Biography
—
Suzanne "Suzy" Myers joined KUCRL from the Kansas State Department of Education, where she was the Director of Kansas' LiNK grant, a $27 Million award to the state through the federal Striving Readers initiative. While serving in this capacity, she was also the Coordinator for State Academic Standards, and prior to that served as the K-12 ELA State Supervisor for Standards and Assessment. Suzy has also worked as a high school English teacher and Curriculum Coordinator. 
Education
—
Ed.D. in Curriculum and Instruction, The University of Kansas, 2017
M.S. in Curriculum and Instruction, Kansas State University, 2010
B.A. in English Education, Washburn University, 2005
B.S. in Journalism-Advertising, The University of Kansas, 2001
Research
—
Research Interests
Curriculum
Instruction
Asset-driven
Redesign
Habit
Educator professional development
Educator professional learning
Alternative professional development models
Service
—
She currently serves on the Executive Board for the Kansas Masonic Literacy Center, is a Flint Hills Writing Project fellow (2006) and is National Board Certified in Adolescent/Young Adult English Language Arts.